here we go again a blast.. !

"66 dead, 470 injured as 13 blasts rock Assam"

this is getting ridiculous. Serial blasts have almost become a regular feature in our country! again a resolve by Home Minister... again a condemnation by PM... again extensive media coverage !(WTF) again the end result-zero! but the end of road for a few families.. may their souls rest in peace.

Fed up of useless/powerless UPA govt....grr

Here's a list of some of the major terror attacks that have taken place in India.

September 13, 2008: At least 15 killed and over 110 injured in five blasts across New Delhi.

July 26, 2008: 29 killed and over 100 injured in 17 serial bomb blasts in Ahmedabad.

July 25, 2008: At least two killed and 20 injured in eight low-intensity blasts in Bangalore.

May 13, 2008: At least 63 were killed in nine bomb blasts in Jaipur.

August 25, 2007: At least 42 people were killed in two blasts in Hyderabad's Lumbini park and a restaurant.

May 18, 2007: At least 13 were killed in the bombing at Mecca Masjid, Hyderabad, which took place during Friday prayers.


September 8, 2006: Over 37 killed and 125 injured in a series of bomb blasts in the vicinity of a mosque in Malegaon, Maharashtra.

July 11, 2006: Over 200 killed in a series of seven blasts in Mumbai local trains.

March 7, 2006: At least 21 killed in three attacks in Varanasi in Shri Sankatmochan Mandir and Cantonment Railway Station.

October 29, 2005: Three powerful serial blasts in New Delhi just two days before Diwali. About 70 people died.


August 15, 2004: 16 killed in explodes in Assam. Most of them were schoolchildren.

August 25, 2003: Simultaneous car bombs in Mumbai kill 52

May 14, 2003: Terrorists attack an army camp near Jammu, killing more than 30, including women and children.


March 13, 2003: A bomb attack on a train in Mumbai kills 11.

September 24, 2002: Terrorists attack the Akshardham temple in Gujarat. 31 dead.

December 13, 2001: Terrorists attack parliament complex in New Delhi killing seven.

October 1, 2001: Attack on J&K assembly complex kills around 35.

February 14, 1998: Blasts in Coimbatore kill 46.

March 12, 1993: 257 die in Mumbai serial blasts.


Here's a map indicating attacks carried out in various parts of India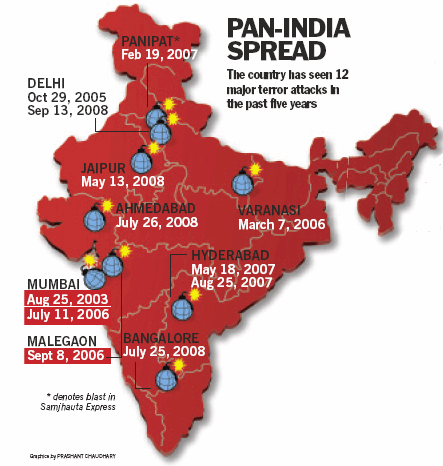 Read more...