R-DAY PARADE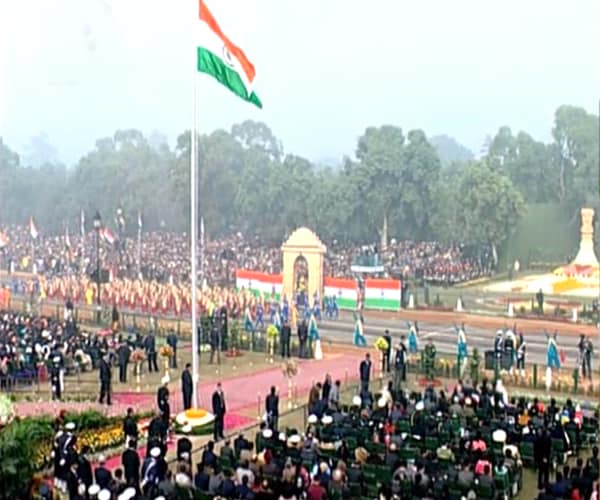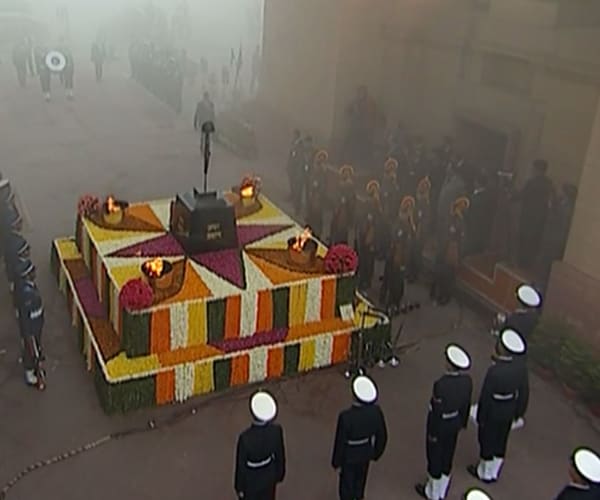 "two minutes' silence was observed in the memory of the courage and bravery of the nation's immortal soldiers who sacrificed their lives. "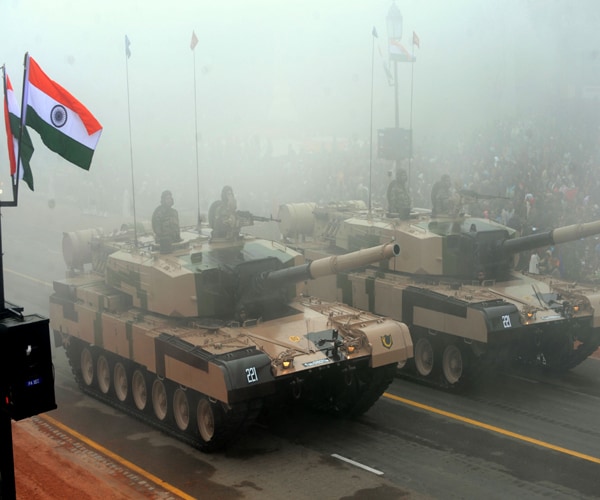 "Indian Army tanks rolled through the fog during the Republic Day parade"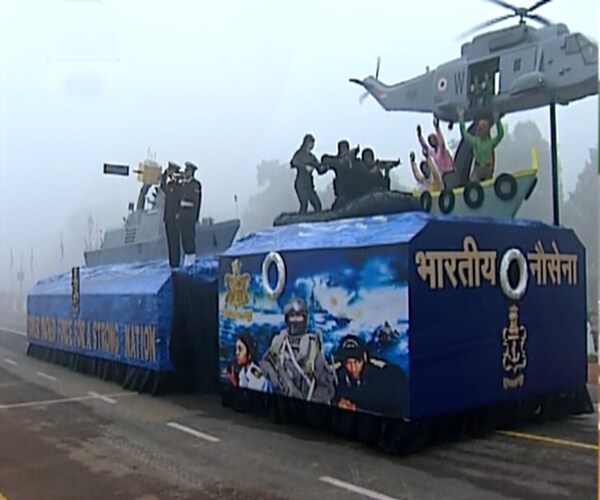 "The Naval Tableau INS Shivalik, showcasing the Shivalik class of ship"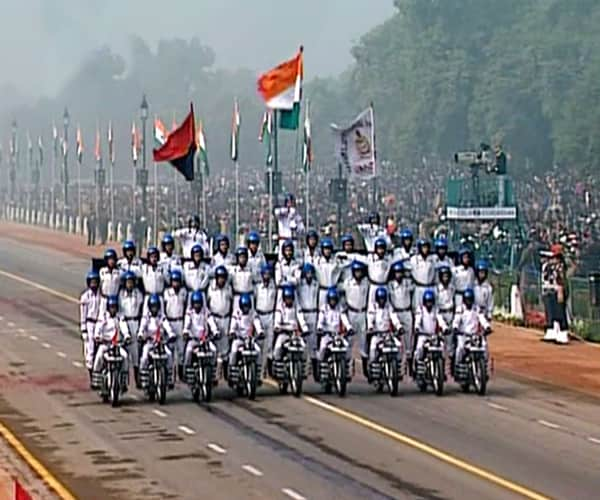 "BSF motorcycle team 'Janbaz' performed a dare-devil display of their talents. They performed back riding, border man salute and ladder balancing."




Nuclear-capable Agni III missile




Army soldiers march



"Border Security Force soldiers ride their camels during the Republic Day parade "



Soldiers march



Paramilitary jawans march



Daredevils presenting a show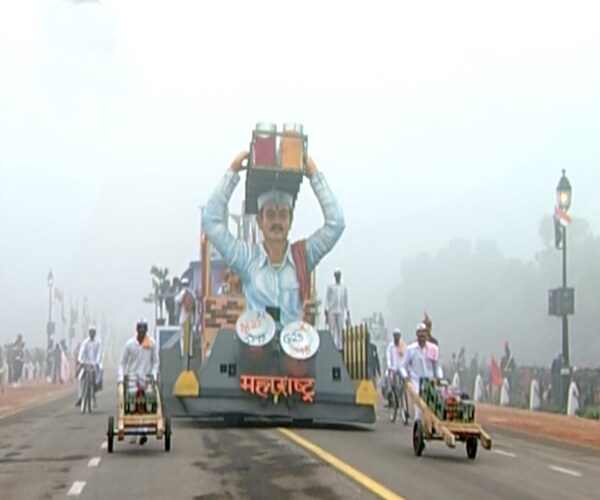 "One of the eye-catchers was Maharashtra's float 'Dabbawala', a common sight in Mumbai which showcases the life of Mumbai's signature office tiffin suppliers.
Dabbawala in CST railway station and an MBA student learning the working skills from the Dabbawala are some of themes in the tableau."



"Karnataka showcased 'Pattada Kal', a world heritage site which is a fine example of temple architecture."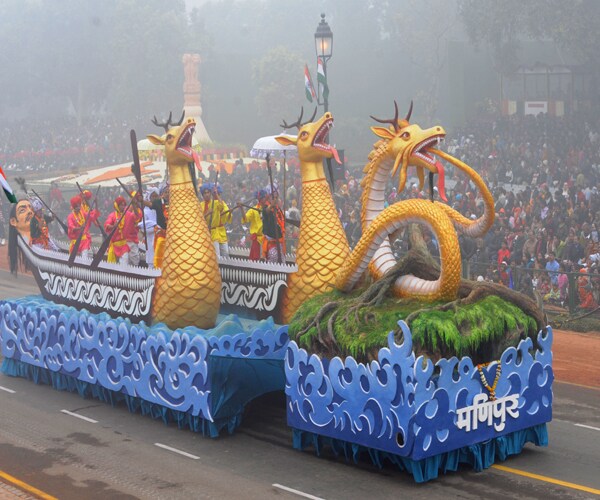 "The tableau form Manipur showcased Hiyang Tanaba -- the traditional boat race of Meiteis tribe"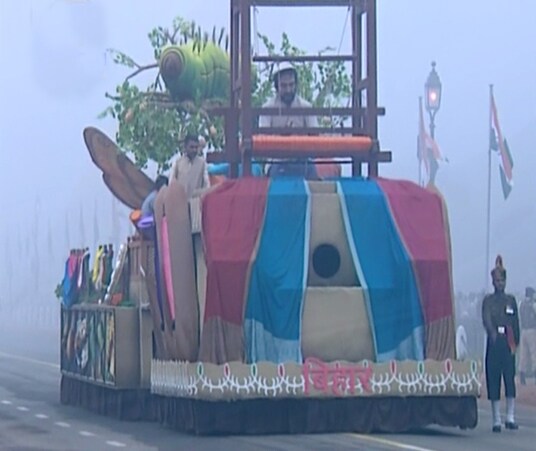 "Bihar brought to the parade the lovely silk from Bhagalpur . Bihar's 'Bhagalpur Ki Lok Sanskriti: Resham Udyog' tableau displayed the sleek and lustrous silk made by Bhagalpur weavers"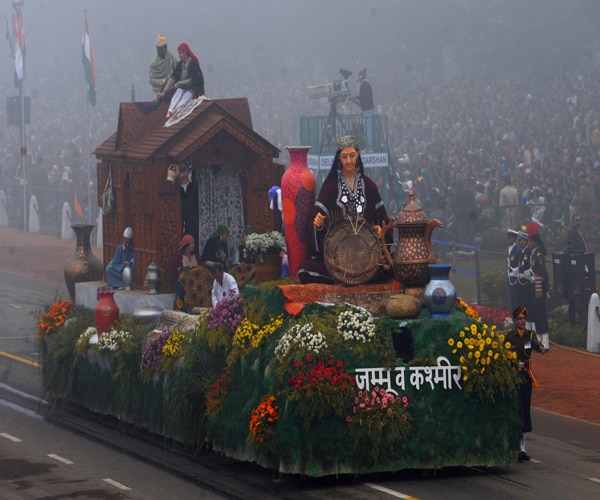 "Jammu and Kashmir came up with a tableau depicting its handicraft, wood carving, willow-work and carpet weaving."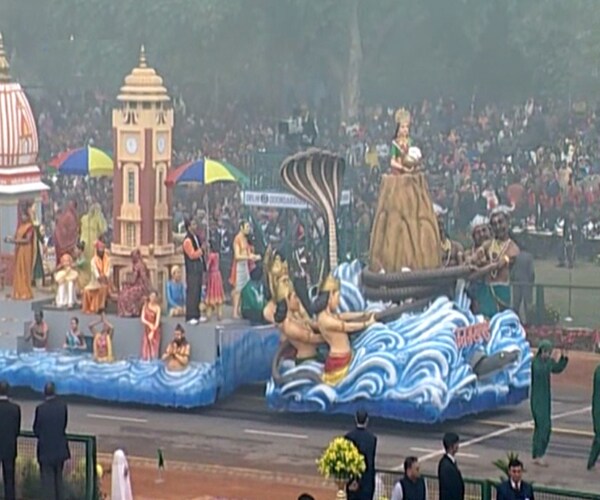 "The tableau from Uttarakhand had 'samudra-manthan' or the churning of the divine sea, Har-ki-Pauri and Kumbh Mela as its theme."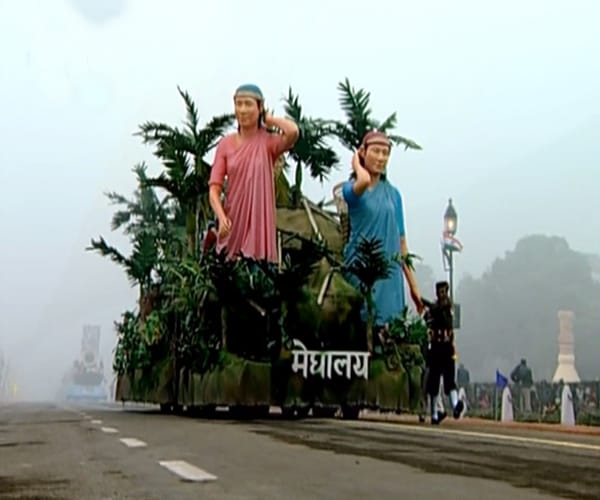 "Meghalaya's tableau showed its ingenious system of tapping of stream and spring water by using bamboo pipes."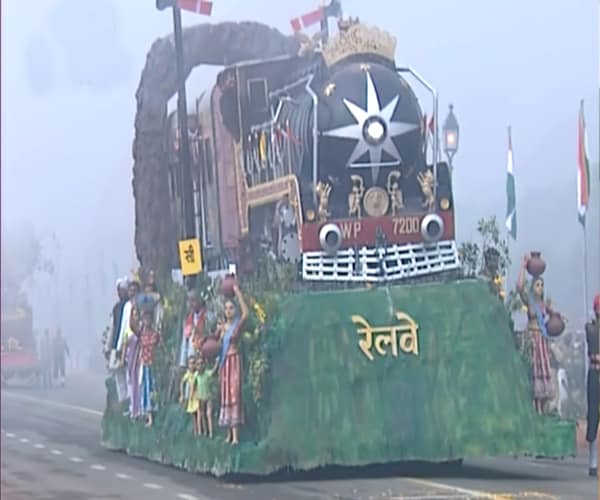 "Railways displayed its glorious past and triumph of new era through its steam locos and the latest Duronto Express trains"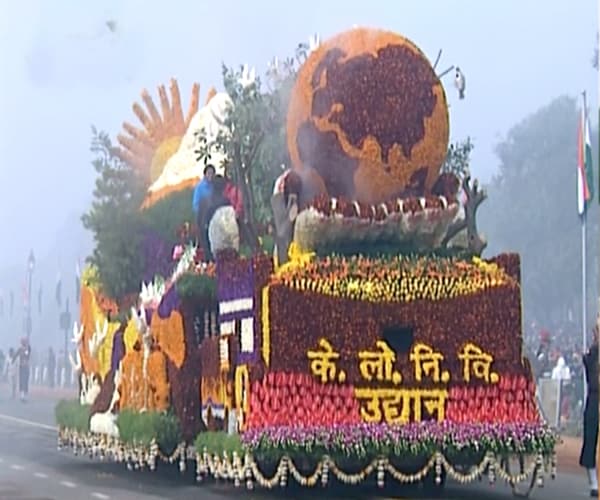 "Central Public Works Department (CPWD) highlighted the concerns about global warming through its tableau"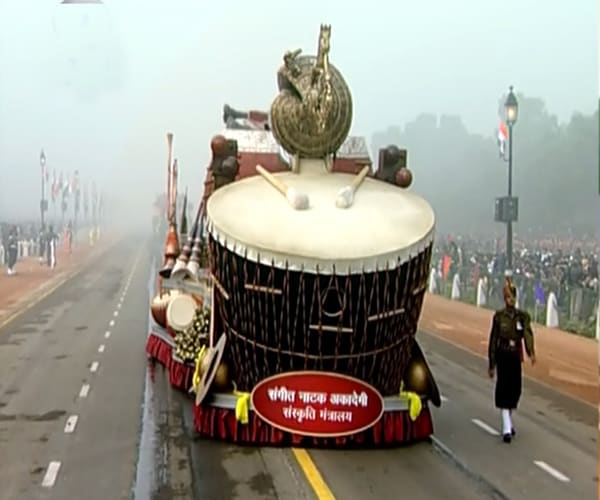 "Culture Ministry and Sangeet Natak Akademi showcased the rich tradition of Indian music through musical instruments veena, shankha, dhumsa etc"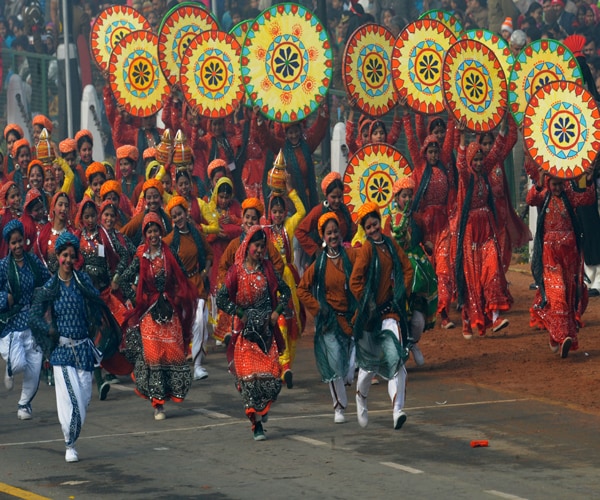 "Children who won the national bravery awards walked in to a huge applause. Twenty-one children were selected for the award in 2010.
Six-hundred school children also performed during the parade. Rajasthani folk dance, aerobics and Tamang dance included in the students' performance"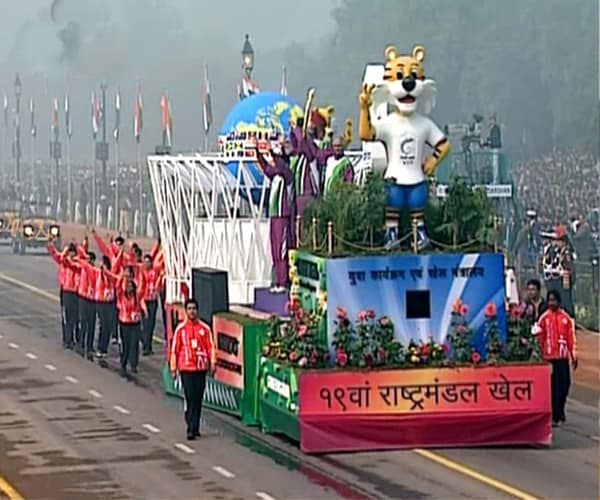 "The Youth Affairs and Sports ministry showcased the Commonwealth Games 2010, the first 'Green Games'. A bevy of sportspersons including legendary athletes Milkha Singh and P T Usha, former hockey captain player Zafar Iqbal, Badminton player Gopichand Pullela and shooter Samresh Jung were the stars accompanying the tableau"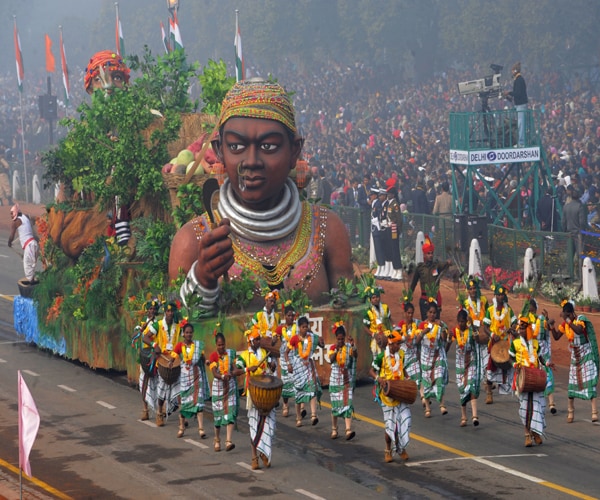 "Tribal Affairs Ministry had come up with a float on Forest Rights Act, 2006 and empowerment of tribal people."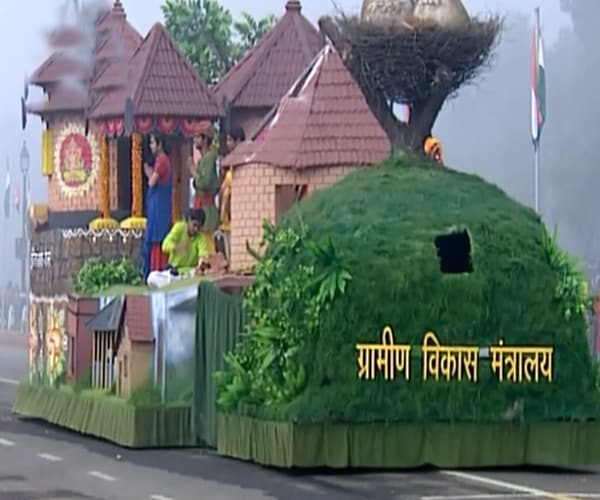 "Rural Development depicted Indira Awaas Yojana through Gujarati style house under construction besides low cost homes from various parts of the country."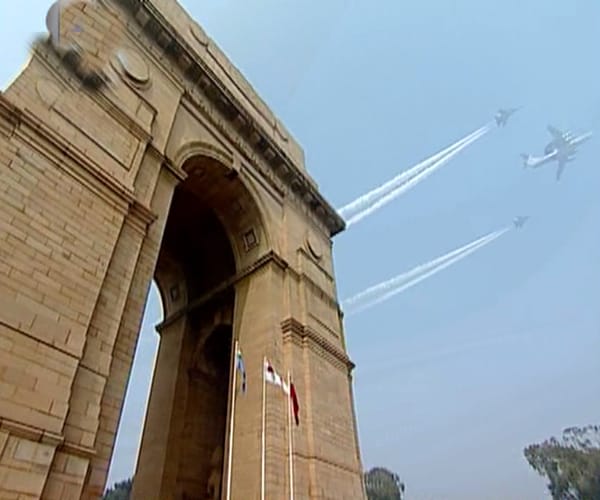 "The spectacular parade ended with a flypast involving an IL-78, two AN-32 and two Dorniers in big boy formation, one AWACS and two SU-3- MKI in sentry formation and five Jaguars in arrowhead formation.
The flypast also had five Jaguars and five MiG29 in arrowhead formation and three SU-30 MKI in Trishul formation."



PRESENTING ASHOK CHAKRA:

Major D Sreeram Kumar, late Major Mohit Sharma and Havildar Rajesh Kumar were honoured with the country's highest peace time gallantry medal- the Ashok Chakra.




President Pratibha Devisingh Patil presenting Ashok Chakra (posthumous) to Major Rishima Sharma, the wife of Major Mohit Sharma, on behalf of her husband.

{Maj Mohit Sharma, born in Jhansi in Uttar Pradesh and commissioned in 90 Medium Regiment (Artillery) in March 2004, was killed in a battle with terrorists in the Hafruda forest in Jammu and Kashmir in March last}



President Pratibha Devisingh Patil presenting Ashok Chakra to Major D Shreeram Kumar
{Maj D Sreeram Kumar, serving with 30 Assam Rifles since March 2007, had eliminated 12 terrorists in counter insurgency operations in the northeast.}



President Pratibha Devisingh Patil presenting Ashok Chakra (posthumous) to Beeta, the widow of Havildar Rajesh Kumar, on behalf of her husband,
{Havildar Rajesh Kumar killed three hardcore heavily-armed terrorists, one after the other, despite being grievously wounded in Kupwara district of J&K last August.}